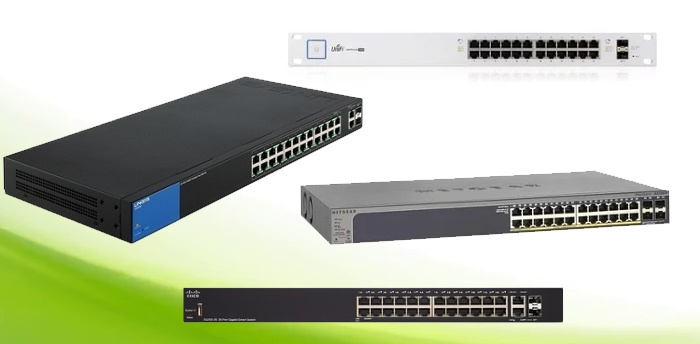 It's no secret that the number of PoE dependent devices is growing. No need to sweat, though. There are plenty of switch options on the market. We've wrangled together some of the best managed PoE switches for small businesses, which have made our customers happy and are frequently noted as the best by other credible sources. For the sake of the discussion, we will be focusing on managed Layer 2, 24 and 26-port switches with 52 Gbs switching capacity.

Ubiquiti
The Ubiquiti US-24-250w

UniFi 24-Port PoE Managed Switch consistently receives high ratings. Among its competition, the Ubiquiti UniFi Switch offers the most power to PoE ports at 250W and comes at a very competitive price. This product does frequently sell out (everywhere), but if you pre-order it in advance of the time you need it for, you'll have priority when the next shipment arrives.
Who should buy this product? This switch is great for simple networks and for those who are just looking for a quality switch. The amount of power offered is also a unique feature that businesses with more power needs will appreciate.
The Linksys LGS326P 26-Port Managed PoE Desktop Smart Gigabit Switch offers 192W to power dedicated ports. That is 3W less than the more powerful Cisco Small Business SG250 26-Port, in mention next. However, it costs about $100 less. This switch's smart features allow businesses to easily manage security and basic functions. In tests, it was found to be faster than the NETGEAR ProSafe XJ712T, TrendNet TPE-S44, NETGEAR D6300, and four other Linksys models.
Who should buy this product? Looking for a solid switch with minimal hassle? This Linksys switch gets the job done. Please note, this piece would do well in a space where sound is not an issue, as it was also been found to be noisier than most.
Cisco products are often found on lists comparing the best small business switches. The specific switch in mention here is the Cisco Small Business SG250 26-Port PoE Gigabit Layer 2 Switch. This model dedicates either 100w or 195w of power to PoE, depending on which package you select. The former is $100 cheaper than the latter.
Who should buy this product? Companies looking for easy network management will enjoy Cisco's switch for its intuitive features and the accompanying quality customer support. If you can afford this switch, it comes widely recommended by current Cisco customers.
Due to the number of positive reviews this switch received on Amazon, the NETGEAR 24-Port Gigabit Ethernet Smart Managed Pro Switch made this list. This switch offers 192W to PoE ports at the lowest price, relative to the other switches on this list.

Who should buy this product? Companies with a leaner budget and a more skilled IT department will get a lot of value from this Netgear switch. It is recommended for more intermediate skill sets as well, but some users did report complicated configuration.
Why Managed Layer 2 Switches?
While many small businesses can get away with unmanaged switches, visibility into the network and the ability to configure certain elements provides for added security, reduced downtime and easier scalability.
As for Layer 2, it is rare that a small business would need more than that. Layer 3 switches involve more complicated features like crossing traffic between multiple local area networks (LANs) and virtual local area networks (VLANs). Layer 3 switches will also decide the best ways to transport traffic for efficiency.


Need Help Deciding?
The number of devices that need PoE is increasing thanks to advancements in technology and added convenience that comes from using a single wire for both data and power. The good news is switches are Hummingbird Networks' best-selling product! We would be happy to discuss your network needs and determine which equipment is best for you.