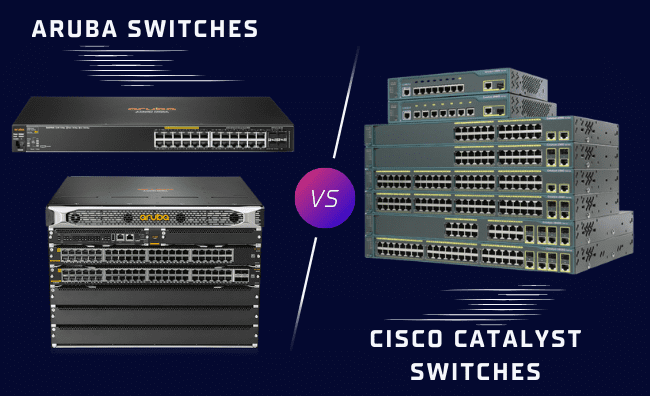 If you're shopping for effective switches for your network, the market offers various options. HPE's Aruba and Cisco Catalyst Series are two popular enterprise choices. Your exhaustive comparison should cover five essential categories. They include features, ease of deployment, after purchase service, pricing, and the expected return on investment.
Aruba has a diverse portfolio of high-quality enterprise switches. They support new and emerging technologies such as Wi-Fi 6 and IoT and are backward compatible with legacy systems.
These devices fall under two major categories. The first is access and aggregation switches.
They include the Aruba 4100i, CX 6000 to CX 6400, 5400R, 3810, 2930M, 2930F, and 2530 Series switches.
These models are appropriate for high enterprise data demands with a
system switching capacity of up to 28 Tbps. Other features are multi-gigabit uplinks, Layer 3 switching, and PoE support for wireless devices.
The second category covers data center and campus core switches. Examples are the Aruba CX 10000, CX 8400, CX 8360, CX 8325, CX 8320, CX 6400, and CX 6300 Series models. They cater to organizations with fluctuating bandwidth needs, such as entertainment providers who stream their productions.
These switches are compatible with Aruba Central. It's a convenient solution that simplifies network management by offering AI insights, security, and other relevant features on one dashboard.
The benefits of Aruba switches are:
One operating system that enables seamless connectivity between all Aruba devices. AOS supports scalability, automation, extensible APIs, and network policy enforcement.

A cloud-powered unified management system to simplify network control, visibility, and analytics.

One-touch deployment and fast troubleshooting features eliminate network outages by detecting and solving problems.

Consistent performance during automatic updates improves network security and the user experience.

Aruba's dynamic segmentation feature enables role-based policy enforcement across WAN, wired, and wireless networks.
Aruba switches are generally more affordable than alternatives such as Cisco. Although most users praise them for their reliability, a few complain about the inadequacy of some features, such as the command-line interface's limited functionality.
Cisco access switches optimize your network by bridging and simplifying wireless and wired functions. They fall under these categories:
These switches are suitable for entry-level enterprise networking because they are easy to configure and scale. They offer security, advanced automation, and reliable power to your branch devices.
The 9300 Series has a high-density bandwidth stacking capacity of up to 1 TB and flexible uplinks. They are suitable for hybrid work, IoT, and emerging technologies.
This series is appropriate for decentralized workplaces with multiple
endpoints and applications. They provide a solid foundation with state-of-the-art features such as a 90-watt UPOE+ and advanced security.
The 1000 Series is your preferred switch if you manage a small business network. Its fanless design includes a variety of port and PoE combinations.
Cisco Catalyst PON Series
These switches are effective at managing passive optical networks (PON). They are affordable, easy to operate, and secure. Their features include uplink redundancy, low power consumption, and minimal cables.
Your business benefits from the Cisco Catalyst Series in the following ways:
Simplified network management through the Cisco IOS and Meraki cloud platforms. This convenience allows end-to-end device tracking and centralized configuration via the GUI or CLI.

Cisco Catalyst Series switches provide practical troubleshooting and repair instructions. For example, you can automatically detect switching loops in your network.

Generous warranty terms prove your business can depend on Cisco switches for long-term growth. Depending on the model and service features, they range from 90-day support to an enhanced limited lifetime warranty. The second option includes next-business-day hardware replacements.

Apart from responsive customer care, Cisco has a vibrant online community that provides high-quality solutions and suggestions to help solve common networking problems.

Cisco integrates various aspects of its three advanced security categories: User and Endpoint Protection, Network Security, and Cloud Edge.
Cisco switches are generally more expensive than similar alternatives. However, most customers are willing to pay extra for top-notch security, reliability, warranty, and network integration.
Conclusion
Hummingbird Networks is a certified vendor of Aruba and Cisco Catalyst switches. Our experienced technicians are experts at picking the most suitable devices depending on your business size, needs, and future expectations. We also offer installation, configuration, maintenance, and replacement services where necessary. Place your order today to enjoy fast processing and free shipping for eligible purchases. Contact our team with any questions.