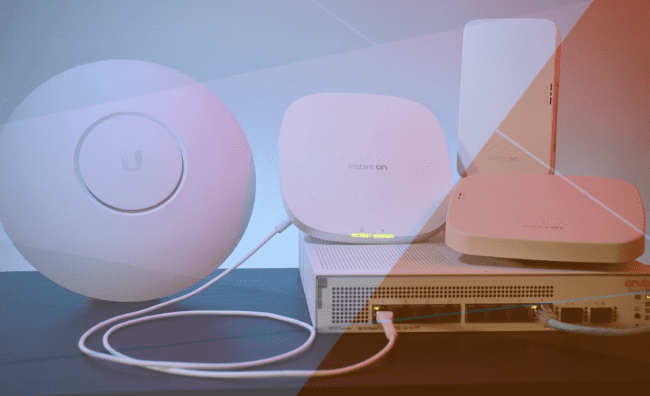 Modern businesses need an excellent internet connection to improve productivity. Access points ensure stable connectivity on campuses no matter their size. Aruba and Ubiquiti Networks are two of the most reliable solutions providers for small businesses. Their APs offer various unique benefits depending on your needs. This article compares the two to help you make the right choice.
Aruba's Instant-On series allows you to set up a simple and secure Wi-Fi network for your home office or small business. It includes a mobile app that facilitates fast configuration, remote monitoring, and access control. Automatic software updates and data routing are two features that enable fast internet speeds across your network.
Aruba Instant-On access points are compatible with several devices, including wired connections. Examples are security cameras, smart TVs, POS systems, printers, and smart locks. You can also separate customer and employee traffic, block sites, and regulate network availability.
Practical Use Cases for Aruba Instant-On APs
Before purchasing the ideal AP, it's advisable to use the product
finder function on their website. It takes two minutes to provide information about your business so you can receive recommendations on the most suitable networking solution.
Practical use cases include home offices, retail, healthcare, hospitality, and education. Next, state the number of devices that will connect to your network, as well as your campus size. Other considerations include the type of usage, whether you'll have Wi-Fi 6 devices, and the extent of outdoor coverage.
Pros and Cons of Aruba Instant-On AP Series
Aruba's flexibility makes it easy to set up and manage your network with a few clicks. You can oversee as many as 25 access points per network via the Instant-On App. It also allows you to increase network strength by identifying dead zones and adding more APs to create an intelligent mesh.
Users enjoy enterprise-grade security features, including multi-factor authentication. This additional protective layer reduces the risk of unauthorized access and harmful data leaks. With Aruba Instant On, you no longer have to worry about dropped video calls. That's because it intelligently prioritizes bandwidth allocation depending on the prevailing requirements.
Another benefit of Aruba Instant On APs is the implementation of separate SSIDs for guests and employees. Users also experience seamless connectivity while moving between networked APs.
Overall, the process is fast and straightforward if you run a small or medium enterprise.
Ubiquiti access points are sought after for their affordability, scalability, and reliability, among other beneficial features. They're available in these major categories: Ubiquiti UniFi AC, In-Wall, HD/SHD, nano HD, Mesh, Wi-Fi 6, and XG. These comprehensive ranges ensure you have an appropriate solution for diverse networking scenarios.
For instance, the AC access points are suitable for hospitality, enterprise, or educational institutions. They deliver the high throughput required for bandwidth-intensive tasks in high-density Wi-Fi networks. UniFi's In-Wall APs utilize the most advanced MU-MIMO technology to transform Ethernet wall connections into 802.11ac dual-band access points.
The Mesh APs are superb for omnidirectional coverage in large outdoor and indoor spaces. They provide networking solutions for temporary events such as music concerts.
In addition to supporting the latest Wifi 6, and soon Wfi6e, UniFi's HD/SHD devices combine other technologies to enable unlimited scalability. They include Bluetooth radios and security integration for exceptional communication with multiple clients.
Ubiquiti's nano HD access points are typically smaller than the other models in this series. In addition to supporting high-density networks, they can perform complex tasks such as filtering and guest control.
Pros and Cons of UniFi APs
Ubiquiti's UniFi APs have an attractive price point. They're also easy to set up, giving them almost plug-and-play functionality. The UniFi Network app allows you to monitor sites and configure individual devices if necessary. The mesh network enables users to traverse APs seamlessly without experiencing any problems. You can use the UniFi controller to manage networks remotely on one dashboard.
While UniFi APs are generally more affordable, users report more cons than Aruba Instant On AP Series devices. For one, configuring VLANs is not as intuitive as you'd expect. Some cloud keys experience problems with their programming, especially the older ones.
Your Ubiquiti access points also go offline whenever you make changes, which can disrupt the entire network.
Conclusion
At Hummingbird Networks, we guarantee customer satisfaction by stocking the highest quality networking equipment. Our skill and experience in the IT industry allow us to recommend, install, maintain, and customize these products to your liking. Whether you opt for Aruba Instant On or Ubiquiti's UniFi access points, we'll be happy to pick a model that solves your Wi-Fi needs.