Small and Medium Sized Businesses are spending too much time managing network devices. New devices on your network today each operate at their own speed for optimum performance. With NETGEAR, your newest devices are able to reach their top performance because our new 5-Speed Switches automatically sense and adjust to the appropriate speed on a per port basis, over existing cabling. They make it easy on your IT budget, too.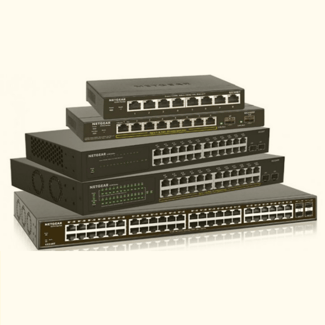 With the Insight Smart Cloud Managed Platform and Ecosystem and our expanded Power-over-Ethernet switch, and wireless access point lines, NETGEAR wants to transform your office from a device management space to an environment to conduct and grow your business.
NETGEAR's high-end switches offer a secure, future-proof networking infrastructure–with integrated security, high availability, delivery optimization and enhanced manageability, designed for enterprise and campus networks.
This whitepaper will cover the various types of Switches Netgear offers, as well as who is best suited for each of them. Read to learn more about Netgear Switches.