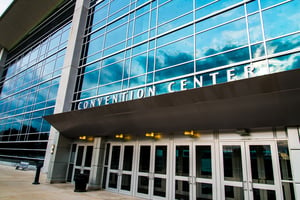 With our heads still spinning from Cisco Live, we've caught the conference bug. The one that leaves you wanting more opportunities to discover new technologies, gain insight and connect directly with other like minded people. Whatever your reasoning behind wanting to attend a tech conference, there is nowhere else that will help you expand your professional network better. Let's explain further...
With just a few months left of this year, there are still plenty of great tech conferences you won't want to miss. Below is a list we've compiled of just a few of the conferences occuring the end of 2016. Even if there's no room in your travel budget to fit these in, most conferences offer live streaming or recorded sessions after the event. Love that.
Tech Conventions 2016

Gartner Catalyst Conference- August 15- 18
Held in sunny San Diego, CA, the Gartner Catalyst Conference provides solutions and strategies for virtually any network. This conference is aimed at technical professionals in applications, business intelligence, infrastructure, and operations, as well as security and risk. As you can see , it delivers something for everyone. After attending you will walk away with a blueprint and an arsenal of tools to help you conquer your next IT project.

Price for ticket: $3150, $2750 for public sector

Why attend:
• Private sessions with a Gartner Analyst
• Roundtables for peers to offer insight on how they accomplished similar problems
• Specific agendas for industries- healthcare, government, and higher education

Tech Crunch Disrupt- September 12-14
Designed mainly for startups, Tech Crunch Disrupt will be held in San Francisco, CA. This conference gathers up and coming entrepreneurs, hackers, tech enthusiasts and more to introduce the latest in technological advancements.

Price: $1995

Why attend:
• Great for startups
• Connect with someone who can get your ideas up and running
• Startup Alley- where you can see the early stages of the next big thing

Microsoft Ignite- September 26-30
This conference is for IT professionals looking to enhance their tech skills with hands on experiences and for IT decision makers looking for what's next. Held in Atlanta,GA, Microsoft Ignite will showcase the Microsoft suite of products from Azure, to Office 365, to Windows Server. You'll also get an inside look at what Microsoft has in store for the future.

Price for ticket: $2220

Why attend:
• Get Microsoft certified
• Test drive Microsoft products
• 440+ sessions

Dreamforce- October 4-7
Dreamforce is Salesforce's annual conference held in San Francisco, CA. Dreamforce is designed for a wide variety of professionals from IT to Marketing. You'll be able to learn about thousands of solutions and how they can benefit you when integrated into your enterprise architecture. Keynotes include professional athletes, CEOs, and astronauts who will share their experiences and advice to further help you grow.

Price: $1799

Why attend:
• History of improving ROI after attendance
• Thousands of session for a variety of industries- helping you to expand your horizons
• Features big names- Melinda Gates, Billie Jean King, Captain Scott & Mark Kelly, and U2

Spiceworld- November 1-3
Spiceworld, held in Austin, TX, is one of the few conference designed specifically for people in IT. At Spiceworld, IT professionals and tech marketers connect to learn and party. While Spiceworld is mainly a networking event, it does offer 2 days of education and solutions from a multitude of vendors.

Price: $399

Why attend:
• Connect with over 1500 IT peers
• One big massive party
• Over 50 IT and marketing sessions- giving you a fresh spin

Did we miss an upcoming IT event that you're looking forward to this year? Please let us know in the comments below.