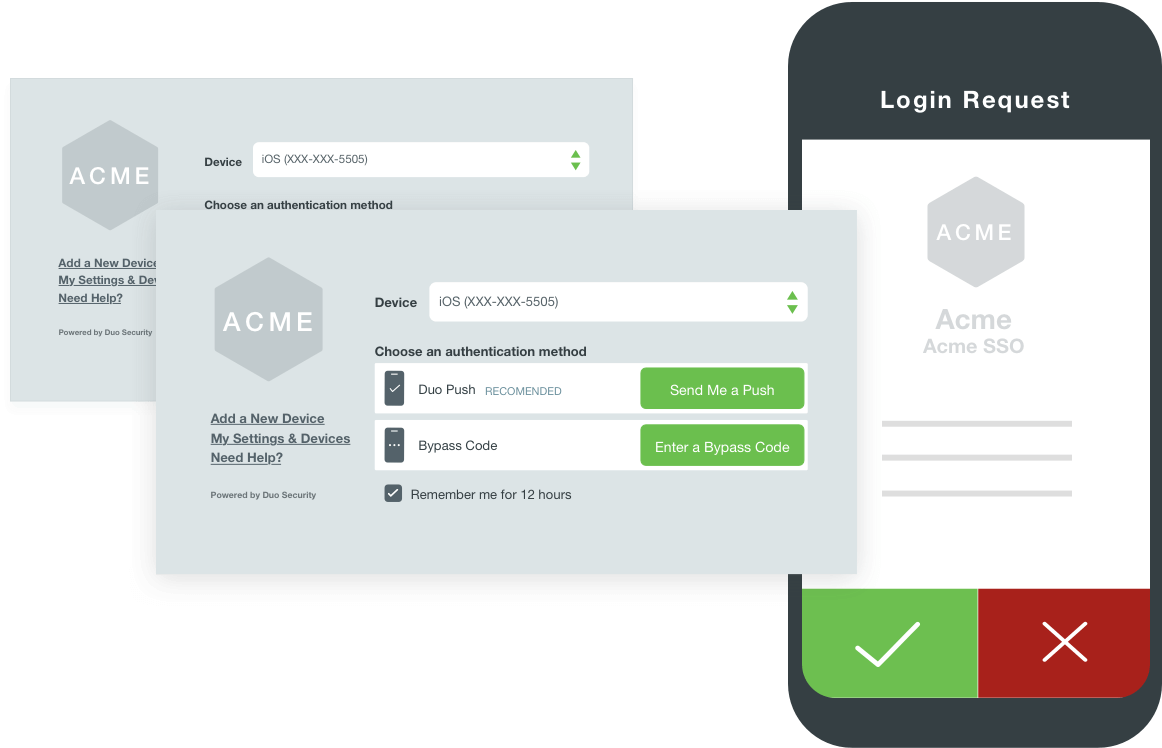 Cybersecurity is a serious cyberspace concern, which significantly limits the increasing adoption of remote working. Companies should integrate the use of two-factor authentication, otherwise known as multi-factor authentication, to enable their mobile workforce remote access to the company's network without compromising vital data security. Cisco Duo provides unmatched remote access solutions, protecting the existing IT systems and enabling managers and employees to gain remote access to the company's network when working remotely.
Unlike traditional network security measures that relied on location-based trust, Cisco Duo leverages the zero-trust model, which uses adaptive controls and continuous trust verification. With the zero-trust model, Cisco Duo prevents unauthorized access to company data and potential data breach, reducing risks of attacks. It provides a single sign-on option to users backed by incredible security.
What is Multi-Factor Authentication?
The multi-factor authentication feature is probably what gives
the Cisco Duo outstanding security. MFA allows you to reduce the risks of data breaches proactively. It verifies network users' identities by making every device visible to admins. It also enforces adaptive measures that secure all applications accessed within the network. MFA enables clientless remote access to multi-cloud environments and management of remote workers from one single dashboard.
Cisco Duo's multi-factor authentication protects applications using the second source validation, verifying users before allowing access to your network. Duo is designed to provide an easy and streamlined login process for all remote users and applications. Despite being a cloud-based solution, Cisco Duo integrates with ease to the pre-existing company infrastructure.
That aside, adding multi-factor authentication to your existing security stack doesn't disrupt ongoing operations in the network. Installing and setting up Cisco Duo multi-factor authentication is fast and easy, thanks to the wide array of authentication methods. You can easily find one that suits your workflow. The system also functions as a gateway for your existing IT infrastructure, making it a perfect choice for growing businesses. You can easily add new users, new devices and protect new apps instantly.
Cisco Duo Integrations
Secure Remote Access
Cisco Duo's ability to provide secure remote access enables the increasingly remote workforce to access company systems confidently. Duo's solution complements various technical environments by identifying and establishing device trust regardless of the time, place, and how remote users log in. Without a doubt, the current workforce has its offices on the go. Be it at home, coffee shop, or while at the beach, Duo protects devices and applications within the company network, enabling users to keep working anywhere, anytime.
Cisco Duo also provides secure remote access to any environment. Different companies often have varying IT stack. Fortunately, Duo provides security for all, be it on-premises IT infrastructure or cloud environments, such as Amazon Web Services, Google's Cloud Service, or MS Azure. Duo also provides security to environments with and without VPNs.
Secure controls for individual apps are another aspect that makes Cisco Duo a reliable security option. The Duo gateway enables admins to restrict access to individual applications. With this, access to critical applications in the network can be limited
to only those who need them.
Secure DNS
Cisco Umbrella powered by the Duo secures the DNS level of networks. It identifies any maliciously presenting domains, IPs, predicts emerging threats, and anomalies. This forms the important first line of protection from threats as it secures logins, which are crucial in maintaining the security of any IT infrastructure. The integration between Duo and Umbrella provides impenetrable protection through strong authentication. It also maintains device security hygiene, assuring that access to Cisco Umbrella has not been affected.
Secure Cloud Apps
Cisco Duos' single sign-on makes it easy for users to enjoy a fast, safe, and consistent network login experience to applications either on your premise or through the cloud. Duo integrations with WebEx provide several ways to integrate two-factor authentication with flexible security policies to upgrade your login options.
What stands out with the Duo SSO is the ability to log in once and work everywhere. With this integration, users only need to sign in once through an MFA protected platform to access all the applications they require. You can also leverage the Duo's access policies, which provide an accurate level of access to remote users.
The cloud-based Duo SSO is also compatible with multiple security architecture and identity provider infrastructure. The zero-trust model enables IT personnel to secure app access in a way that suits their business.
Cisco Duo Helps Protect What's Important
Cisco Duo is a people-centered security platform that provides unmatched secure connections to networks and applications both on your premise and on the cloud. Technology provided by Duo enables IT personnel to develop and implement adaptive security measures through better visibility of remote user devices and activities on the network. It complements the current working model, where customers, employees, partners, and managers access vital business information and applications from open locations and potentially unsecure networks.