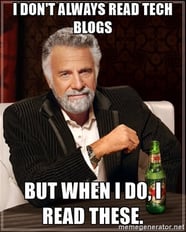 We like to spread the love here at Hummingbird Networks and provide our readers with as many ways to get their IT fix as possible. That's why we've decided to compile just a short list of some the IT bloggers we follow regularly for you to check out.
What we love most about this list are the differences among each one whether you're interested in WiFi, security, new gadgets, or need a laugh, this list has something for everyone.
Top Tech Blogs
Wirednot
Lee Badman is a WLAN architect with years of experience in the IT world. The main focus of his blog, as you can tell by the name, is WiFi. His insight, experiences in the field, and humor make his blog a must-read.
Our favorite posts of his:
The Wirednot Memo to PR/Marketers (we promise not to do any of these)
Oh Say Can You See- What's Driving Up Your Small Site Data Costs?
The Epic Wi-Fi Christmas Story

Canttechit
Justin Cohen is a Senior Information technologist with over 18 years in the industry. His blog Cantechit provides a deep look into Cisco and Meraki products and technologies. We stumbled across his blog after finding his post about the good, bad, and the ugly of IT swag shirts and have been hooked ever since.
Some other great posts to check out:
Meraki goes Fuller Stack with VOIP
Cisco dCloud rolls an iWAN + APIC-EM Lab V2
Meraki drops the MIC on AMP for MX
Krebs on Security
Brian Krebs' security blog delivers the latest on what's happening in cyber security. As a former Washington Post reporter, Krebs's blog is the place to go if you want to stay ahead of the curve when it comes to hackers. His accidental placement into IT and cyber security make his writing and point of view interesting.
Latest Posts:
Adobe, Microsoft Patch Critical Security Bugs
Serial Swatter, Stalker and Doxer Mir Islam Gets Just 1 Year in Jail
1,025 Wendy's Locations Hit in Card Breach
Ip Space
IpSpace.net is a vendor agnostic featuring the perspectives from Ivan Pepelnjakwho has been building networks since the 1980's. His current focus is on SDN and NFV with many of his posts being centered in scalable architectures and emerging technologies. His site features some other really great information such as webinars, training, and podcasts.
Our favorite posts:
What is Software Defined Security?
Does It Make Sense to Build Your Own Networking Solutions?
Optimize Your Data Center: Use Distributed File System
PacketLife.net
Jeremy Stretch provides some really great and free resources to networkers of all levels. His cheat sheets are the best especially for those considering sitting for a Cisco network certification.
Some of his most popular posts:
What the CCIE does not Prove
Stretch's Hierarchy of Network Needs
Announcing NetBox
The Networking Nerd
Tom Hollingsworth's no-holds bar look at networking and life for that matter make his blog a must-read. With over 12 years experience in the IT industry Tom, "The Networking Nerd", has a really great insight into what works and what doesn't especially when it comes to networking equipment manufacturers.
Latest Posts:
The CCIE Routing And Switching Written Exam Needs To Be Fixed
The Complexity Conundrum
Will Dell Networking Wither Away?
Those are just a few of our go-to tech blogs for networking news. If you have a blog you read daily please share with us in the comments below!