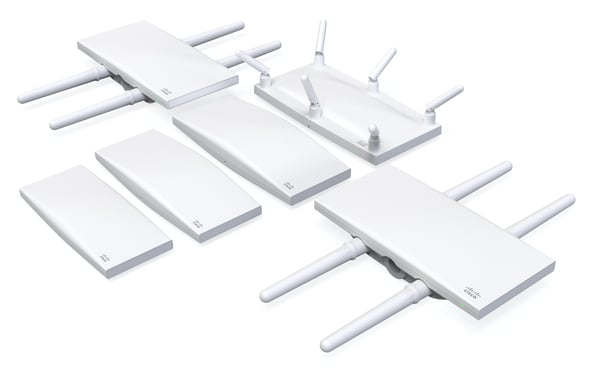 Cisco's announcement of three new access points couldn't have come at a better time. The MR46E, MR76, and MR86 APs are best suited for the current work from home as well as general social distancing regulations. Their main strength is the ability to offer fast and reliable Wi-Fi coverage in large buildings and outdoor areas.
Why Wi-Fi 6 is the Future
Even before the current demand for video conferencing solutions, there was an overall growth in bandwidth-heavy applications. They include video streaming platforms, VR and AR, BYOD, cloud computing, SaaS, and IoT services. Wi-Fi 6, also known as 802.11ax, is the latest generation of Wi-Fi standards.
It's benefits include:
Backward compatibility with devices that were designed for Wi-Fi 5.

Higher network bandwidth and lower latency than previous-generation Wi-Fi standards.

Simultaneous connections on both 2.4 GHz and 5.0 GHz bands for improved performance.

Improved support for mobile device management services.

OFDMA (Orthogonal Frequency Division Multiple Access) features that divide bandwidth into subchannels for efficient data transmission across multiple devices.

Reduced operating expenses due to low maintenance and a more efficient network.
Meraki previously had a total of 5 Wi-Fi 6 APs: MR45, MR55, MR36, MR46, and MR56. The addition of three more access points improves network performance for small, medium, and large organizations.
Details About the New MR46E, MR76, and MR86 APs
The latest access points have similarities, such as:
Four radios: Bluetooth Low Energy (BLE), dual-band WIDS/WIPS, 2.4 GHz, and 5.0 GHz.

Efficient cloud management that allows network-wide control and visibility through the Meraki dashboard.

Flawless firmware updates. Accurate location analytics that captures both real time and historical visitor data. Details include the length of each visit and the rate of repeat visits on various sites.

In-built antivirus scan. You'll also receive a secure, built-in DNS security if you opt for the advanced license.

Layer 2 authentication through 802.1X and native Active Directory integration.

Secure and convenient 1-click guest access, including a guest isolation firewall. All three access points also allow integrated Facebook Wi-Fi login.

Dual-concurrent radios for powerful and automated RF optimization.
Let's look at each new AP in detail.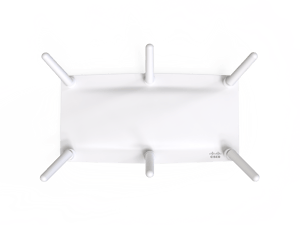 It's an indoor Wi-Fi 6 access point with six external antennas and a 2.5 Gbps Multigigabit Ethernet port. It's ideal for high-density surroundings, complicated RF settings, flexible deployment needs, and high-quality wireless LAN performance.
The package includes an 802.3at PoE, which increases available power to the AP, as well as the number of potential applications. This AP also provides traffic analytics for every network, device, and application connecting to it.
One of its enterprise security features is identity-based group policies to enable network customization. You can limit client bandwidth, stop access to your internal network, block peer-to-peer sharing activities, and inherit other default network settings.
The Layer 7 traffic shaping feature allows you to classify applications and specify bandwidth limits for each. You can also give priority to apps that increase productivity and limit or block recreational ones.
Meraki's device management dashboard gives you the ability to implement device-specific firewall requirements and security settings.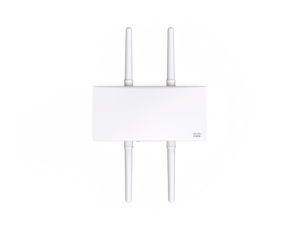 MR76 is an outdoor AP that's suitable for demanding environments such as industrial zones. It works well for bandwidth-intensive networks that require the use of voice and video applications. Other than Bluetooth radios, it has dependable and dedicated security integration.
MR76 has a Giganet Ethernet port that's compatible with 802.3af PoE. Its cloud management features include automatic reporting and self-provisioning. This AP is also suitable for implementing a mesh network to prevent Wi-Fi dead zones in hard-to-wire parts of the environment.
Apart from multiple radio routing protocols, this mesh has automated configuration and optimization features. It's capable of self-healing after experiencing unexpected cable detachments and switch failures. Other unique features of the MR76 AP are:
iBeacon functionality, which enables location services.

A built-in RDP to assist with troubleshooting.

A real-time wireless intrusion prevention system (WIPS) with cutting-edge forensics.
MR86 powers the most rugged outdoor Wi-Fi installations,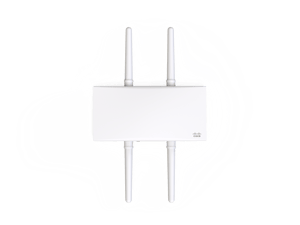 including sports arenas and other open-air, bandwidth-heavy activities. It's the highest performing Wi-Fi 6 AP in the Meraki range. This product's durability is apparent from its physical design, which is water, dust, vibration, and shockproof.
MR86's high-performance features include:
Enterprise-grade CPU.

Top-notch, hardware-expedited encryption.

160 MHz channels for low latency, multi-gigabit connections. OFDMA allows efficient spectrum management through simultaneous connections, while MU-MIMO enables bandwidth transmission to multiple devices.

Band steering to ensure efficient use of both 2.4 GHz and 5.0 GHz networks.

802.11e/WMM specification that allows you to prioritize data packets according to voice, video, background, or best effort.
Conclusion
With more than 15 years of experience in the IT sector, Hummingbird Networks has witnessed the transition from legacy networks to the latest Wi-Fi 6 standard. We have unrivaled expertise in a wide array of network products and services, including the latest Meraki access points. Contact us today for the most comprehensive solutions to your network problems.