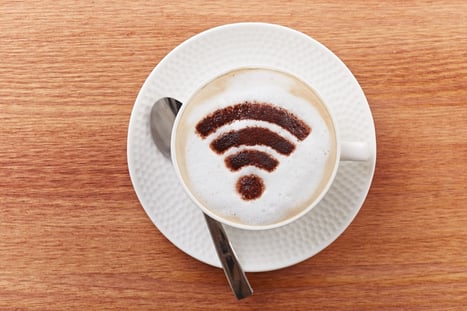 New year, new Meraki hardware! We are consistently impressed by Meraki's dedication to expanding their hardware line and their willingness to release niche products. This February saw the release of four new Meraki access points. These new access points (APs) are not for everyone, but for certain users they may be perfect. Let's take a look!
I. The Meraki MR42e and MR53e
The first of their new products are variations of existing indoor APs, with the addition of external antenna connectors. The connectors allows significant flexibility in deployment and coverage-shaping.
Besides the antenna connectors, the MR42e is identical to the existing MR42. It's an 802.1ac Wave 2 3x3 MU-MIMO access point, with a maximum possible bandwidth of 1.9Gbps. Bandwidth comes via a Gigabit Ethernet port, and it prefers PoE power. Like the MR42, the MR42e also includes two additional radios for access monitoring\tracking and Bluetooth Beacon functionality. It features five separate external RP-TNC antenna connectors, and is intended for medium-sized deployments and user loads.
Likewise, the MR53e is a variation of the existing MR53 802.11ac Wave 2 AP, which is intended for dense high-usage environments. A 4x4 MU-MIMO setup gives it superior ability to deal with large bandwidth demands, and it boasts a 2.5Gbps multigigabit uplink to ensure users' needs are properly served. It includes six separate TP-TNC antenna ports.
To go along with these, Meraki has also introduced six new antenna types to serve just about any conceivable need. While any TP-TNC compatible antenna can be used, Meraki's products feature smart technology that allows each AP to auto-detect and auto-configure the attached antennas. As with all Meraki products, the benefit to buying their official hardware is the sheer ease of use.
II. The MR20 and MR70
Then, there are the MR20 and MR70 models, which are brand new designs, developed to be budget conscious. Broadly speaking, there are two obvious markets for these access points: startups and small businesses (possibly looking to make their first Meraki purchase). Professionals dealing with the need to create a network very quickly\easily\cheaply will also appreciate this hardware.
The MR20 is an indoor 802.11ac Wave 2AP, with a 2x2 MU-MIMO array. It features a single Gigabit Ethernet port, and a theoretical max throughput of 1.3Gbps. Conversely, the MR70 is an outdoor model, with the same basic specs as the MR20, but ruggedized and weatherproofed to an IP67 rating. Both have internal antennas.
Someone organizing an outdoor festival, exhibition or similar effort with a demand for WiFi service will find an excellent option in the MR70.
It's worth noting that unique among MR-series access points, the MR20 and MR70 do not include the additional radios for scanning the local RF environment or having Bluetooth Beacon functionality. They were cut to keep the price down. If those features are desired, you should look at the MR33 (indoor) or MR74 (outdoor) instead. Those were their previous entry-level models, and are still quite cost-effective for SMBs.
Meraki Is Always Moving Forwards
These new APs are solid additions to the Meraki lineup that will be highly valuable to the right buyers. Not sure which products would be best for your needs? Or are you ready for an upgrade to the next generation in networking hardware? Contact Hummingbird Networks today for a full consultation on your Meraki options - or even a free in-office trial!