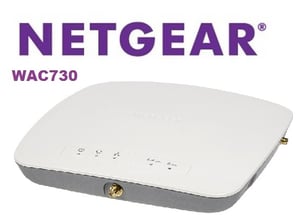 If you're in a small-to-medium sized organization and you're looking for an affordable solution in high-speed wireless-ac access points, the new top-line NETGEAR ProSAFE AP has a lot going for it, and at surprisingly low prices!
The new NETGEAR ProSAFE WAC730 is squarely targeted at SMBs in need of Gigabit WiFi speeds and enterprise-grade management options. It includes top-grade 802.11ac (wave 1) hardware, simple software management, and unprecedented flexibility in usage and configuration.
If you hear "NETGEAR" and immediately think consumer hardware, that really needs to change. Let's take a look at some of the features in the new Netgear Access Point.
Hummingbird Reviews: The NETGEAR ProSAFE WAC730-100NES
The first thing most people care about for wireless access points is speed, and the WAC730 has plenty of that. With a 3x3 antenna array and a maximum throughput of 1.7Gbps, it rivals even the fastest access points available from other, much more expensive vendors.
The 730 also dual-broadcasts over both the 2.4ghz and 5ghz frequency ranges, giving it significant flexibility in cordless-focused environments with plenty of other radio devices in use. It automatically scans the local radio environment and adjusts its broadcast to match, while also utilizing 802.11ac beamshaping to maximize transmission distances.
A ProSAFE 730 is fully secured as well, featuring a range of enterprise-grade security options. It has 802.1X/RADIUS security systems, along with WPS/WPS2/WEP and MAC-based authentication. Wireless access control systems identify unauthorized devices attempting access. Secure SSH telnetting and SSL management are also available.
Four Control Options For Total Compatibility And High ROI
One truly groundbreaking feature of the new access point is its readiness for multiple network architectures and approaches. Once the updated firmware is available for free download in early 2016, you'll be able to choose between four separate control methods:
Standalone: Configure the AP directly via simple web-GUI
Controller: Control it via ProSAFE controller hardware
Business Central: NETGEAR Cloud-based administration
Ensemble: Simplified local management of up to 10 units
Standalone and Ensemble modes will be available at launch, and Ensemble mode deserves a closer look. It makes expanding a NETGEAR ProSAFE network simple by allowing up to ten WAC720 or WAC730 units to be configured as a group -called an Ensemble- with shared software and settings. Adjust the policies or upgrade the firmware on one unit, and all others in the Ensemble are automatically updated to match.
This allows shops with limited on-site expertise, or lacking dedicated IT staff, to still quickly and easily expand a ProSAFE wireless network with a minimum of effort. And when Controller and Business Central modes are added next year, the new access point will truly be ready for any existing environment.
Plus, An Industry-Leading Warranty
We can't talk about a NETGEAR product without mentioning their truly outstanding warranty and support policies, which significantly reduce the TCO compared to any other brand. When you buy a ProSAFE 730, you get:
Fully unlocked software with NO additional licenses needed.
A lifetime warranty with next-business-day hardware replacements.
Lifetime free online chat-based technical support.
90 Days access to telephone support, with optional extensions.
In short, when you buy a ProSAFE 730, you are treated like the owner of the product, not just a renter. This one-and-done pricing and lifetime warranty makes NETGEAR the best value on the market for SMBs.
NETGEAR Delivers With The WAC730
We see ourselves recommending this access point to a lot of our SMB clients because it truly hits all the bases: High speeds, simple usage, and incredibly low TCO. This is WiFi hardware designed to service your business for years, with plenty of scalability through the full family of NETGEAR products.
To learn more, just contact Hummingbird!