We don't hide the fact that we're fans of the Meraki brand here, and that's because they're doing genuinely impressive things to improve the state of networking in the 21st Century. They don't simply have the easiest-to-use architecture and infrastructure for creating an endlessly scalable corporate network. They have an entire ecosystem of devices which are all inter-compatible, including devices you might not typically expect from a networking company - like their MV series of WiFi security cameras.
Their MV series of cameras is downright revolutionary - easily deploy-able go-anywhere WiFi cameras that connect directly into the Cisco Meraki infrastructure, and which can be managed from the same dashboard as all your other networking hardware. Now, the line has expanded with two new models, including one of the toughest outdoor cameras you'll find anywhere. Plus, there's the new MV Sense software upgrade - smart software that expands the possibilities in your Meraki cameras!
Let's take a look...
Introducing The MV22 and MV72 Meraki Smart Cameras
The Meraki MV22 security camera is their most advanced indoor cam yet, featuring a smartphone-grade processor and a massive 256GB of on-board high-speed solid state storage. It captures high-resolution 1080p images at a frame-rate up to 20FPS, with a number of other resolutions and FPS options available, depending on your needs. With all that storage space, it could potentially store over a month of recordings - making it excellent for keeping an eye on remote locations such as warehouses. Need more than 30-60 days retention time? No problem. There are low-cost add-on options to extend that to 180 days.
The camera itself is varifocus, with a 3-9mm lens, and a horizontal FOV anywhere from 36-112 degrees. Whether you need a wide-angle survey of a location, or need to keep the image tight on a specific object such as a server or display case, the MV22 can handle it. Plus it has IR sensors allowing for almost 100 feet of night-vision as well!
The Meraki MV72 has similar specs to the MV72, but with one major difference: it's ruggedized for outdoor use. And we do mean rugged! It features an IK10+ impact resistance rating, currently the highest rating that exists, along with IP67 weather resistance. Simply put, very little short of a hurricane or catastrophic earthquake could knock out the MV72. Plus, it can operate in temperature environments ranging from -40°C - 50°C (-40°F - 122°F), so there truly are few places it can't go.
Whichever camera you pick, it integrates quickly and seamlessly into your existing Meraki network. All settings and operations are controlled through the Meraki Dashboard, with easy retrieval of security recordings from anywhere. Plus, licensed units also get access to cloud storage for archival purposes!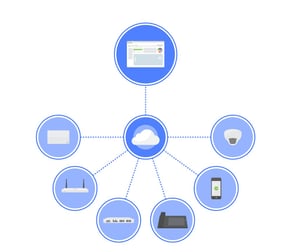 What Is MV Sense And Why Do You Want It?
Meraki isn't merely introducing new cameras, they're also offering new features. MV Sense is a separately-licensed software upgrade which adds human recognition and machine-learning APIs to your MV-series cameras. With MV Sense, they can perform tasks such as tracking individual customers' movement around your sales floor, or create heatmaps of traffic. You can easily see, for example, what sales displays attract the most attention, or which ones caused a specific customer to start putting items in their basket.
This can also have security purposes, such as keeping track of the total number of people on a job site. If that number changes unexpectedly, you can be alerted! Plus, the programmable APIs mean that creative deployments and utilization of these technologies are possible. MV Sense radically expands what a security camera can do.
In short, we continue to be genuinely impressed by Meraki's MV-series security camera offerings, and we're happy to include them as part of our product lineup. To learn more about Meraki security systems, contact us for a consultation!