WiFi 6 (aka 802.11ax) is here and, as usual, Meraki is one of the leaders in making the latest in WiFi technology available in an easy-to-deploy format.
This newest generation of WiFi is a bit different than those that have come before. It does provide some impressive speed boosts over WiFi 5 (802.11ac) but most of the improvements are actually aimed at improving user experience under high demand. WiFi 6 is the standard if you're in a situation where you need to serve up connections to a large number of devices, without compromising connectivity on any of them. It supports more users, better seamless roaming, and can even reduce battery usage in compatible receiving devices.
So it's no surprise that Meraki is among the first enterprise-class hardware manufacturers to produce WiFi 6 devices. They've added two new routers to their lineup already, and more are sure to follow. These are the MR45 and MR55, and either could be an excellent upgrade path depending on your needs.
Fundamentally, both routers are quite similar. They're aimed at medium-to-large scale operations, with a focus on allowing the most possible devices onto each router simultaneously. This doesn't just mean users, it also encompasses the growing collection of Internet-of-Things devices that most offices are now accumulating.
The significant difference is simply one of bandwidth, and how many simultaneous broadcasts they can handle.
The MR45 features a 4x4 MU-MIMO antenna arrangement, and can support up to 3.5Gbps across both the 5ghz and 2.4ghz ranges, backed by a multigigabit 1G/2.5G connection. On the other hand, the MR55 has an 8x8 MU-MIMO radio, and can push up to 5.9Gbps, coming from a 5G Ethernet connection.
One important factor to keep in mind here is your own networking back end. WiFi 6 can demand a lot of bandwidth, particularly if you're deploying multiple devices across your location. Remember that your top rack and your incoming network link must be able to support those high speeds if you're going to get the most performance from your new routers!
In addition to the main broadcast radios, both WiFi 6 routers feature two more radios which add more functionality. One is a low-power Bluetooth beacon, which can be used to track user movements around your property, or to broadcast messages directly to devices. The other is a dedicated access-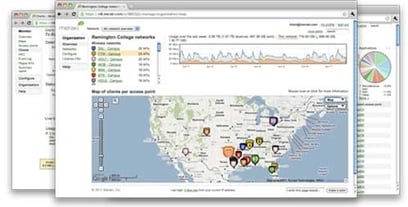 monitoring radio which is utilized for Intrusion Detection & Prevention services, as well as providing more data on your local radio environment.
Plus, you get all the features Meraki is known for. Each router comes with its own stateful inspection firewall, along with a built-in virus scanner. As with all Meraki devices, deployment is truly plug-and-play. Once the initial Meraki environment is installed, deploying new devices is as simple as plugging them in and registering their serial numbers with the central servers. Then they coordinate with cloud servers and other Meraki devices to self-configure.
Oversight comes via the Meraki Dashboard, an advanced single-pane-of-glass GUI which puts all your Meraki devices and networking information in a single place. You can set high-level security policies, or drill down to configure access at a device-by-device level. As you add more Meraki products, they'll all be accessible here - even peripherals such as security portals or security cameras.
Meraki may not be the only easy-to-configure mesh-based networking solution on the market any more, but they still lead the way in high-powered features. If your operation needs the most powerful WiFi on the market, and administrative abilities to match, contact Hummingbird Networks to discuss a Meraki deployment!