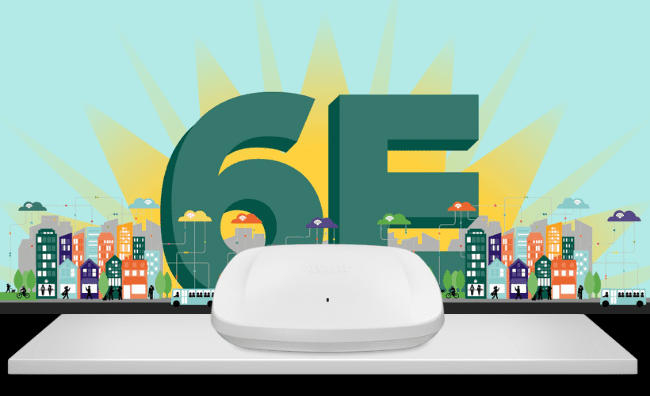 Meraki continually innovates its already impressive line of cloud-powered devices. The newest offering is the Meraki MR57 access point that conforms with the latest networking standards. It's compatible with Wi-Fi 6E, an extension of Wi-Fi 6 or 802.11ax. MR57's tri-band compatibility supports 2.4 GHz, 5 GHz, and 6 GHz, bands.
Overview of the MR57 AP
MR57's software-defined flex radio architecture enables operation using a dual-band or tri-band configuration. The latter increases throughput by unlocking additional channels in the 6GHz range. This option ensures a higher quality connection by reducing interference from legacy devices and guaranteeing support for future technology upgrades.
MR57's high throughput, intuitive management, and enterprise-grade security make it suitable for high-performance deployment in various institutions. They include schools, hotels, offices, retail outlets, and hospitals.
Its cloud-managed 4x4:4 MU-MIMO 802.11ax compatibility enables excellent wireless performance and improves overall network efficiency. Other highlights of the MR57 AP include a self-configuring plug-and-play setup and dual Ethernet port support.
Features of the MR57 AP
The tri-band configuration supports an aggregate frame rate of up to 8.35 Gbps. OFDMA and MU-MIMO technology improve end-user experience and overall network performance by enabling simultaneous data transmission to multiple devices. Other notable features include:
1. Cloud-powered RF optimization
Automated RF optimization eliminates the previous requirement of advanced hardware and radio frequency expertise to tune your network. A dedicated fourth radio constantly collects and feeds RF data to the Meraki cloud. This data optimizes power transmission, channel selection, and other relevant client settings.
2. Layer-7 traffic shaping
The MR57 has a dedicated Layer 7 control engine that's effective for packet inspection and classification. It's essential for configuring QoS policies that prioritize crucial applications and traffic types. You can limit unfavorable activities such as video streaming during work hours. The MR57 is flexible enough to apply these bandwidth restrictions to specific networks, SSIDs, groups, or individual users.
3. Comprehensive analytics
The MR57's integration with Meraki Health gives you vital insights into network performance, including visit lengths and repeat visit rates. You can also analyze visitor trends over specific periods and compare them with other networks. These analytics allow you to plan for network upgrades in locations with higher client density.
4. Enterprise security
Compatibility with the Meraki Systems Manager offers automatic and context-aware security solutions. The MR57 can rapidly deploy mobile device management (MDM). Other integrations include Meraki's Air Marshal wireless intrusion prevention solution (WIPS), in-built antivirus scan, and optional Umbrella DNS security.
The MR57's cloud management feature provides network-wide visibility, automatic reporting, and seamless firmware updates. Once plugged in, this AP automatically links to the Meraki cloud. It then downloads configuration requirements and joins the relevant network. You can view all these developments through Meraki's intuitive dashboard.
Meraki MR57 Specifications
The MR57 supports a total of five radios. In addition to the 2.4 GHz 802.11b/g/n/ax, 5 GHz 802.11a/n/ac/ax, and 6 GHz 802.11ax client access radios, they include a tri-band analytics and BLE radio. Please note the supported bands may be affected by country-specific restrictions.
Its physical features include integrated omnidirectional antennas, an LED indicator, a DC power connector, and two 1000/2.5G/5G BASE-T Ethernet ports. The MR57 has flexible mounting options, including the wall, desktop, and ceiling.
It weighs 1.7kg and measures 260mm x 260mm x 56mm, excluding the mounting equipment. Meraki offers a lifetime hardware warranty that includes advanced replacement.
Conclusion
Hummingbird Networks is your vendor of choice for technology solutions that solve your most pressing business problems. Our comprehensive product range includes the MR57 Wi-Fi 6E access point, an assertion of Meraki's dedication to the latest networking standards. It allows your business to rapidly and affordably scale and meet the needs of the hybrid work environment, among other evolving technologies. Contact us today for more details on pre-orders and shipping dates.