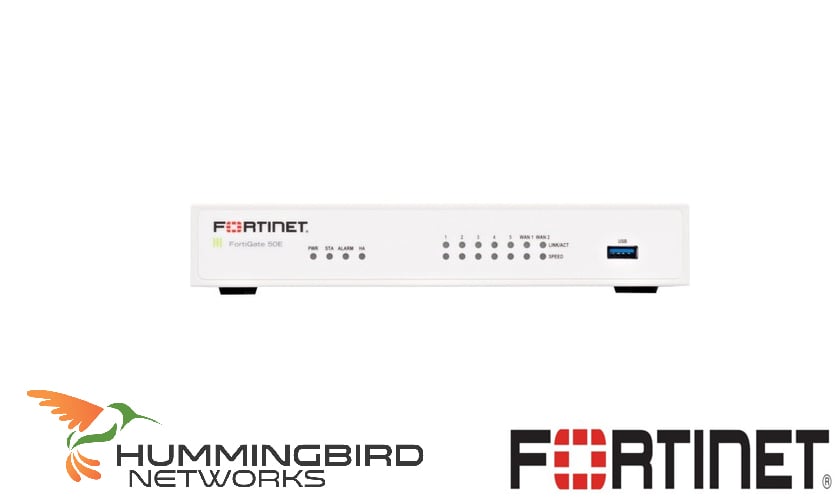 At Hummingbird Networks, we're always on the lookout for new brands to add to our product portfolio. We're looking for trusted brands, cutting-edge brands, and brands with a range of product options that make them accessible to businesses of all sizes. Plus, of course, we put a strong emphasis on security and the need for strong network defenses.
So, we couldn't be happier to add Fortinet to our lineup, because they are all of those things. In recent years, Fortinet has become one of the front-runners in security-focused network hardware - and anyone who is concerned about their own network security should definitely take a look at their offerings!
An Overview Of Fortinet's Product Lineup
There are three forks to Fortinet's hardware products: Dedicated firewalls, network switches, and Wi-Fi access points. There are plenty of software security options as well.
I. Fortinet Fortigate Firewalls
Fortinet Fortigate firewalls are their signature product, and with good reason. They're among the most powerful standalone hardware firewalls on the market, featuring unparalleled performance combined with simple administration.
Fortigate firewalls deliver superior performance thanks to having increased power under the hood. Most models feature a range of custom-built processors specifically designed to speed up packet analysis and processing, allowing them to chew through huge amounts of data. After all, your firewall shouldn't become a bottleneck to your business! Those processors also allow for numerous smart monitoring and reporting functions, so a Fortigate Firewall can consistently watch over your network
Product options range from entry-level products appropriate for small businesses - including a few models with built-in WiFi compatibility for protecting WiFi networks - up to models appropriate for the largest of campuses and corporate operations.
II. Fortinet FortiSwitch Switches
Switches are the backbone of most wired networks, and therefore extremely vulnerable to attack. So, Fortinet offers a full lineup of FortiSwitch switches which are designed to integrate high-powered security services into high-speed Ethernet and fiber optic switching systems.
FortiSwitch switches can be used either in conjunction with other Fortinet security products, or as fully-functional standalone switches. In either configuration, they offer cutting-edge speeds, along with full compatibility with a wide range of networking protocols and wiring types.
III. Fortinet FortiAP WiFi Access Points
Fortinet also offers a full range of high-speed FortiAP WiFi access points - perfect for businesses in need of robust WiFi security, particularly those who allow access to large numbers of customers or other visitors. They offer basic WiFi APs, designed to integrate into existing Fortinet security setups. However, the lineup's standouts are their FortiAP Smart Access series - Access Points with extensive security functionality built directly into the hardware, including firewall protections and anti-malware systems!
FortiAP access points would be an excellent choice for restaurants, cafes, and other hospitality organizations who want maximum protections with a minimum of hardware investment.
The Fortinet Fabric Ties Your Security Together
While Fortinet products can be used stand-alone, or in conjunction with other brands, they can also link together into the Fortinet Fabric - a smart hardware mesh that oversees your network security from end-to-end. All Fortinet hardware products are managed through the same single-pane-of-glass Dashboard interface. This interface allows you to get an at-a-glance overview of your current security posture, while also providing deep dives into per-device configuration and reportable data.
The combination of various Fortinet products, all linked through the Fortinet Fabric, produces one of the most robust security setups currently available for business networks!
If you haven't updated your network security recently, it's high time to do so - and Fortinet might be just what you need. Contact Hummingbird Networks to schedule a consultation on your security options!