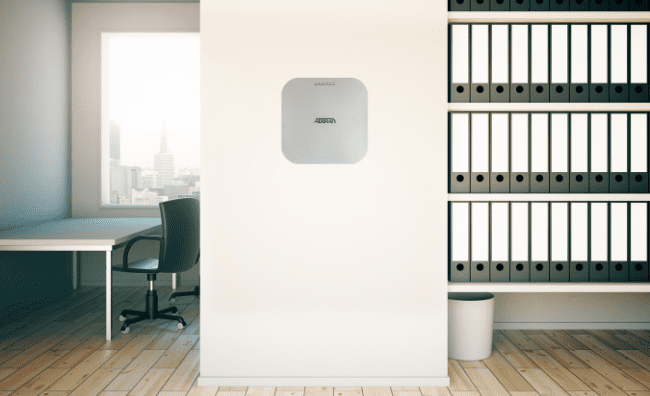 ADTRAN is an established provider of networking solutions for small, medium, and large enterprises. Its devices facilitate efficient voice, video, and data communication across campus infrastructure. The company's business Wi-Fi suite offers high-quality hardware, software, and cloud integrations for the best networking experience. ADTRAN's wireless solutions include:
1. 6020 Access Point
This enterprise-grade AP guarantees reliable network coverage in high-traffic areas and events such as conferences, libraries, and indoor arenas. Every AP transmits and streams up to 1.7 Gbps on the 5 GHz and 2.4 GHz bands. It also supports four MU-MIMO internal receivers.
In addition to complying with Wi-Fi 6, the ADTRAN 6020 AP is also backward compatible with previous networking standards. This access point is suitable for various enterprises, including hospitals, hotels, educational institutions, and retail outlets.
The ADTRAN 6040 is an indoor AP that supports dual-band data transfers of up to 1.1 Gbps on 2.4 GHz and 2.4 Gbps on 5 GHz. An 802.3at PoE+ capability ensures full functionality. It also has a zero-touch deployment feature that automatically identifies vWLAN and downloads firmware updates and other relevant configurations.
3. 6120 Access Point
The 6120 model is an outdoor access point suitable for high-density wireless needs. Each AP supports aggregate data transfers of up to 1.7 Gbps (574 Mbps on the 2.4 GHz and 1.2 Gbps on the 5 GHz band). It also has four external antennas that enable a peak gain of up to 5dBi. The 6120 AP's design is sturdier and more durable to withstand extreme weather conditions.
Advantages of ADTRAN Wireless Solutions
These enterprise-class APs support 802.11ax wireless standards, popularly known as Wi-Fi 6. Backward compatibility with older standards means you don't have to buy new, expensive devices. They can also satisfy your organizational bandwidth needs because each AP supports gigabit data transfers.
The access points also utilize BSS coloring technology to improve efficiency in dense deployments. 802.11ax radios use color codes to differentiate basic service sets (BSS). The same colors mean the transmitting and receiving radios have a similar BSS.
Another outstanding benefit of Wi-Fi 6 compatible devices is the support for bi-directional OFDMA. This technology's primary advantage is the significant reduction of uplink and downlink latency, which improves bandwidth utilization for homes and enterprises.
ADTRAN's APs offer dynamic radio frequencies for automatic channel discovery and the prioritization of multiple users and services. Among other uses, they enable the transmission of high-resolution content over wireless networks. Both indoor and outdoor access points incorporate advanced safety features, such as a stateful firewall.
It actively monitors network connections, analyzes data packets for malicious code, and stops unauthorized access. WPA3 encryption also provides an additional security layer.
Suitable Use Cases for ADTRAN Wireless Solutions
Low latency network solutions are suitable for various applications. An example is video-on-demand, which traditionally requires the highest quality internet. Modern streaming platforms incorporate latency-minimizing techniques that give users fast loading times. Other associated applications are broadcasting and streaming live events to large audiences.
These use cases utilize attributes such as long encoding times, fast channel switches, and scalability. ADTRAN's wireless solutions are generally suitable for deployments that involve heavy interference, multiple devices, and dense usage. They offer stability and high capacity to enterprise users through technologies such as BSS coloring, target wake time, OFDMA, and MU-MIMO.
Conclusion
Hummingbird Networks is your one-stop provider of comprehensive IT solutions. As licensed vendors of ADTRAN's products, we deliver the best in wireless networking, including Wi-Fi 6 compatibility. Our technicians and customer representatives are always ready to answer your queries. Place your order today to enjoy our high-quality sales, installation, configuration, and maintenance services.