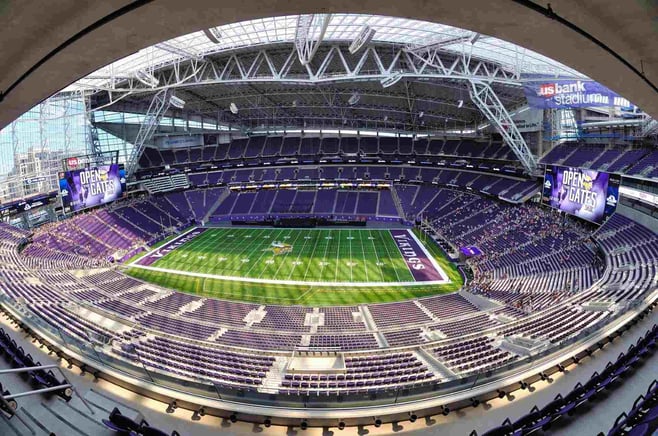 Superbowl LII is just around the corner, and it's going to be in what's almost certainly the most high-tech football stadium in the country: the brand-new US Bank Stadium, opened in 2016 as the new home of the Vikings.
There's a lot of talk about the many technological achievements underneath it's amazing transparent roof, but one which is going overlooked is how the stadium WiFi offers superior connectivity and content for fans. The NFL has come to realize in recent years that the public really wants stable Internet connections throughout a game, and US Bank Stadium was designed with connectivity as a high priority.
It's honestly pretty impressive, just how many online features they've crammed in.
4 Amazing Things About Internet Service At Superbowl LII
What's notable here is just how quickly the NFL has started looking to be connectivity-focused. It was only in 2013-14 that they began to recognize that visitors were demanding robust accessibility. Today, they're pioneering entirely new technologies. In some ways, that turnaround time by itself is pretty amazing.
1 - Service for tens of thousands
US Bank Stadium features more than 1,300 WiFi access points, actually built into the handrails that line its 66,200 regular seats. That works out to roughly 50 people per access point, and in theory every single person could be connected while still receiving acceptable service. They actually had to order custom-designed access points to make it happen.
2 - Provider-Agnostic Cell Coverage
With so many sponsors involved in building a stadium and hosting games, it must be tempting to play favorites with cell coverage - but US Bank Stadium does not. It features a completely neutral distributed antenna system which allows every user to get five-bar cell service absolutely regardless of provider.
3 - A Revolutionary Stadium App
Stadium apps aren't entirely new, but US Bank Stadium takes it to a new level. The app can do everything from remembering where you parked, to getting you through the main gates, to guiding you to your seat, to letting you order food without getting up. Oh, it will even tell you how crowded nearby restrooms are so you can pick the one with the shortest queue.
This isn't just a great convenience for fans - it's a huge help when it comes to crowd traffic control. That's traditionally been a major problem at sports venues, particularly during breaks where thousands of people will be leaving their seats. The app makes things run a lot more smoothly, and that's great for everyone.
4 - The Viking Voyage Playground
While it's not clear whether this will be open during the Superbowl itself, during normal operation US Bank Stadium features a full playground allowing visitors to do everything from run shuttle drills to playing a game of catch in VR. That would be impressive enough, but on top of that visitors receive RFID-enabled bracelets -which they get to keep- that track high scores and allow leaderboards.
The Demand For Always-There Access Marches On
All this just goes towards something we've been saying for years: People demand online access when they visit a physical business, and they will preferentially select businesses that offer robust WiFi. They even want WiFi more than free food! You might not need to serve tens of thousands of people at once, but if you aren't offering some form of free public access, you're almost certainly missing out.
Hummingbird Networks can make it happen! We have experience crafting excellent custom-built WiFi networks for businesses large and small, with hardware pulled from the top names in networking. Contact us today for a full future-focused consultation on your WiFi needs.