One of the biggest frustrations for people looking to buy new network hardware is often how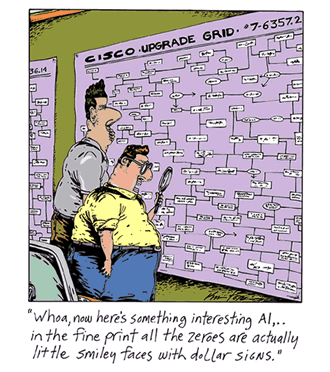 many different choices there are, even within a particular brand line. Networking companies like Juniper don't give clear names to most of their products, and the various ascending model numbers rarely give more than a hint to what features each product has.
So today, we're going to take a closer look at several of the Juniper switches that are available, and lay out clearly what the differences are between each model.
Buyer's Guide To The EX Series Of Juniper Switches
All Juniper switches have a few elements in common, especially Junos and their Virtual Chassis technology. Junos is Juniper's proprietary operating system which unifies all their various networking products. Virtual Chassis technology leverages virtualization to allow multiple switches to work together as though they were a single, larger unit.
In practical terms, this means smaller firms can get a near-equivalent to one an expensive Juniper model by combining a couple lower-end products. Or, larger businesses can hook up many high-end switches to create a unified wide-area network.
Now, let's get on to the differences between the various individual models. For the most part, they simply vary by capacity, so it's really a matter of matching up a product to your needs.


EX2200
The EX2200 is Juniper's entry-level model, designed primarily for small office wiring closets and other low-impact applications. It's designed for low power consumption, and offers 12, 24, or 48 10/100/1000BASE-T ports along with full support for both 802.3at Power over Ethernet or PoE+ as well as standard A/C power. It's a compact device, only taking up one space on your rack. (1RU)
Virtual Chassis support is limited – only four devices can be hooked together. It features convenient front-mounted Gigabit Ethernet ports but, otherwise, is a bare-bones model primarily intended for businesses installing their first professional network.


EX3200
A step up from the EX2200, what makes the EX3200 unique is its expandability. Along with the basic configuration – which, like the 2200, has 24 or 48 standard ports and PoE+ support – it can also be expanded with four more Gigabit Ethernet (GbE) ports, or two Port 10 uplink modules. These are designed to be user-serviceable, with easy part swapping. It also adds a front-panel LCD for monitoring purposes.


EX3300
A mid-line model, the EX3300 is one of Juniper's best all-around units for a growing business. It comes with 24 or 48 10/100/1000BASE-T ports and four GbE/10GbE SFP/SFP+ uplink ports, as well as supporting up to ten units linked together through a Virtual Chassis.
The EX3300 offers more advanced software features, including full IPv6 support. Due to its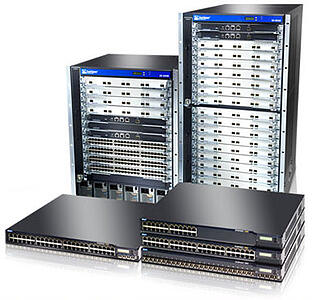 increased power usage, including an option for DC power, it also features an integrated front-to-back fan cooling system which allows it to pack a lot of power into a single rack mount.


EX4200
The primary difference between the EX4200 and the EX3300 is that the 4200 adds support for 24-port 100BASE-FX/1000BASE-X SFP-based fiber configuration, allowing it to easily handle long-distance deployments. The EX4200 is focused on scalability, and can also be linked to their high-end EX4500 line of switches through a Virtual Chassis to support a mixed 1GbE and 10GbE environment.


EX4300
As the most powerful switch Juniper offers that targets single rack mounts, the EX4300 is designed for maximum versatility. With PoE+ up to 30 Watts, and the ability for up to ten units to link together, the EX4300 is suited for a large corporate or campus environment. Between its four 40GbE ports and a Virtual Chassis, the EX4300 can ultimately utilize a 320 Gbps backplane, more than enough for most medium-to-large enterprises.
Still not sure which Juniper Switch is right for you? Just give us a call letting us know where your business is, and where you're going, and we'll hook you up with the right switch to get you there!