It wasn't that long ago that just walking into a store and asking "what's the best router for my business" would get you led to a shelf of routers, and that was all a buyer really had to

worry about. Only big firms were concerned with trying to standardize on a single product.
Today, unfortunately, purchasing a new router isn't as simple. The industry is quickly moving past the ad-hoc networks of the past and towards full-telecommunications solutions that global Internet strategies require. Current networking technologies offer a world of new opportunities to businesses of every size, but it requires changing a few ideas about how networks are built.
Routers: One Piece Of A Much Larger System
Older routers were designed as stand-alone devices. For many businesses, they were the central point of access, as well as their first line of security. Multiple routers often had to be configured independently, making it difficult to implement any sort of unified security policies.
They created a serious burden for businesses, for several reasons:
They created easy single points of attack for intruders.

Uneven security policies inconvenienced or locked out users.

Every unit had to be independently maintained.

Older hardware turned into bottlenecks that slowed network upgrades.

Access based around a single server left few defenses between the point of access and your core data.
Networking was a new industry, so it's not surprising that these long-term problems cropped up. The response was to decrease the importance of the router in the overall network plan, by creating distributed business networks.
Virtualized Networking Comes To Every Business
Virtualized networks take the burden off of your routers and central server by spreading the workload across every device on the network. Every piece of hardware is "aware" of the overall network environment and security policies, ensuring there are fewer weak points. Unified security creates a united front against intruders.
Virtualized networks also offer significant speed improvements over older setups as well, since their distributed nature allows them to intelligently route around bottlenecks and optimize packet speeds. You'll need that smart routing if your firm is looking to expand into gigabit connections.
Previously, these setups were only employed by the largest companies. Today, it's a competitive market with networking vendors offering upgrades at surprisingly low prices. It's within the budget of virtually any company looking to invest in its infrastructure.
However, the real benefits of virtual networks go far beyond your office doors – they allow for unified network environments spread across offices anywhere in the world.
Virtualization Takes Your Business Everywhere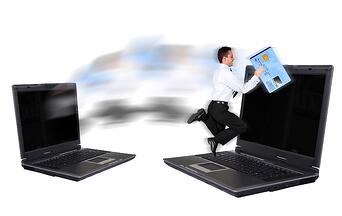 A virtualized network can be spread across any number of internet-connected physical sites, and operate as if they were under one roof..
The same unified security and access policies continue throughout the entire system.

Data sources can be shared and collaborated on in real-time.

Efficient, effective telecommuting from home becomes far easier to implement.

Bring-Your-Own-Device policies allow your coworkers to use their own devices at work, saving you purchases and allowing them to use the device they'll be most productive with.

They allow for find-me-follow-me messaging that gets the message to whoever needs it, where ever they are, on whatever device they're using.

Offices on the other side of the world will only be a few seconds away, at any time.
Today's networks offer vastly more opportunity than old copper-wire networks with central servers. In the grand scheme, each unit is just one piece of a much larger network machine.
The Best New Router Opens Upgrade Opportunities
So, when you're thinking about your router upgrade, it's probably time to stop thinking of it as a single stand-alone part. Today's routers serve a different role, integrating into larger unified communications systems. Buying virtualization-ready equipment now means you're already laying groundwork for the bigger upgrades to come.
Globalization is within the reach of every business. If we can help you realize it, just let us know.