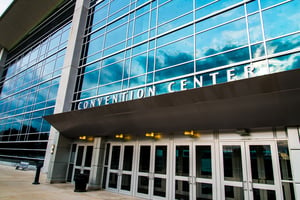 Have you ever been to a convention and you couldn't connect to the Wi-Fi network, or if you did, it was REALLY SLOW?
If you travel a lot and attend conventions it certainly has. If you are some of the lucky few that actually have not had this issue, you will experience it any day now because legacy systems just can not handle the throughput of what is required with BYOD.
I just got back from a convention center, where everyone had at least two devices, and some even three. A laptop, ipad, and smartphone. At least one has email going, the other probably uploading the latest meeting notes to the cloud, and the other downloading some streaming content. There were just too many people fighting for the same bandwidth on the wireless access points.
It was very frustrating, because the connection was rock solid, but it was SO SLOW!
Here is a case study that examines this issue, and how Bluesocket WiFi and it's vWLAN solution were able to solve the problem creating many happy surfers!
The Challenge
The International conference Center had outgrown its legacy hardware controller-based WLAN. With the need to support 802.11n data rates and the increasing demand for Wi-Fi® access, the EICC required a highly scalable, reliable 802.11n wireless LAN solution which could support its various events and its commitment to sustainability.
The Solution
The EICC deployed ADTRAN®'s Bluesocket ® virtual Wireless LAN (vWLAN®) solution with Bluesocket BSAP-1800, 802.11n access points. vWLAN's optional high availability software was also deployed to create a fault tolerant Wi-Fi environment.
There are more powerful Bluesocket wireless access point 802.11ac radios today (much faster than abg), and they are denser, so you may actually need less than you have now. You probably will save money on the wireless access points as well. Antennas have also become more powerful, and come built internally or externally. The external antennas are nice because you can position them just about any way you like, and are very useful for odd shaped rooms, and are great for outdoor applications.
Download the Free Convention Center Wi-FiGuide To Read More About This Case Study & Convention Center WIFI