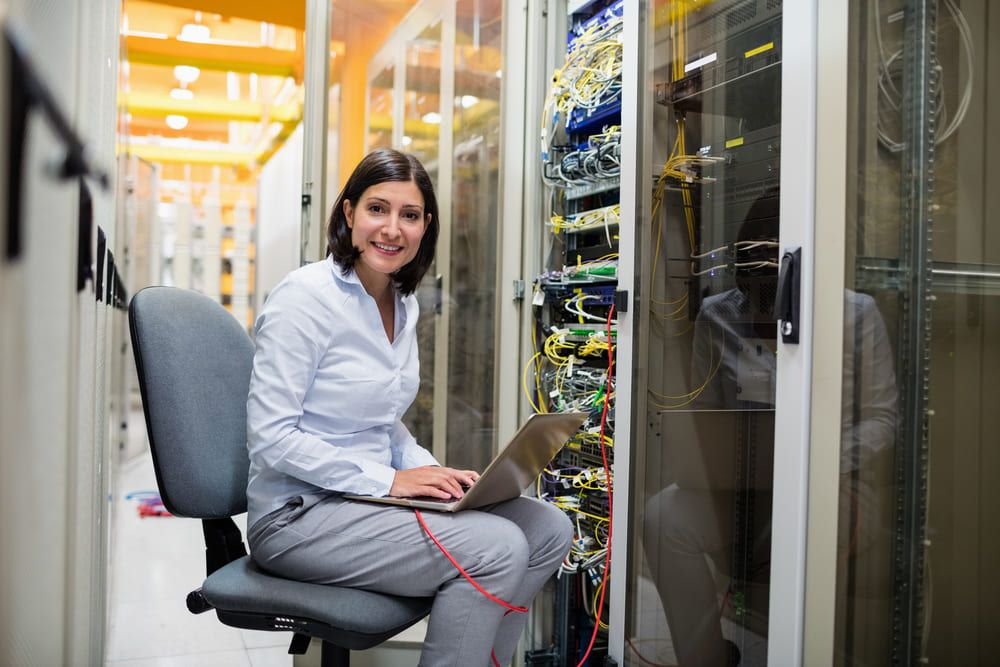 Choosing a server for your small business can be quite overwhelming, considering the many options available. While several features are used to distinguish one server type from the other, it turns out you only need to be concerned about a few of these features. We've listed what to look for in a server and even highlighted four of the best server models for small businesses.
Selecting Your Server
Before you can shop for the best server, you want to do your research and determine the hard-drive requirements, processor type, and RAM space that will best suit the day-to-day business operations.
Basically, you'll need to do any or all of the following with your server:
Store or share files with the employees

For hosting Business Apps/software

Web and secure email hosting

Ecommerce hosting

For back-up and recovery of business data
The kind of research you'll need to conduct include: listing the number of business applications you'll be using, the number of people using each application, then estimate the server resources that all the apps will need. You'll also need to give some allowance in case of spikes in server resource usage.
If you aren't tech-savvy, these procedures can be confusing. You can request our IT consultancy services, and we'll help you understand the kind of server you need in your office. Now that you know what to look for in a server, below are the top 4 server models you can pick for your small business.
This is a highly flexible, high-performance server, which features the new scalable processors from Intel. It's becoming the go-to option in the market thanks to its agility and better security than its predecessors. The DDR4 smart memory offers a storage space of up to 3.0 TB, and you can choose a memory configuration that best suits your workload.
The system also supports a maximum of 3 PCL-Express 3.0 expansion slots with up to 2 CPUs installed. HP ProLiant DL360 is an ideal option if you're looking for a foundational server to use in a space-constrained environment. As an all-around server that will suit all your business operation's needs, you can trust the DL360 with high-profile computing, virtualization, and high-end database management.
The Dell PowerEdge-T30
The Dell-PowerEdge T30 is a popular entry level-server that offers a ton of premium features. The expansion potential, fast quad-core processor, and fair pricing are advantages of picking this model.
With a RAM capacity of 64 GB and up to 6 SATA HDD storage capacity, this server may not compete with the other models in this list, but will still store all the necessary business and office data. As far as connectivity is concerned, you get 10 X USB ports, DisplayPort, Gigabit Ethernet, HDMI, VGA, serial port, and PS2 port.
The downsides with this server are that there's no hot-swapping of the disks, which means there's little to no modification or replacements you can make to get rid of low-performing or failing drives and circuit boards. A single Gigabit network port may also limit data transfer's scalability, which can be an inconvenience for a rapidly expanding business.
Lenovo ThinkServer TS150
Lenovo has always been a trusted manufacturer of high-quality computers, servers, and other high-tech products. This model offers up to 40TB Hard Disk Drive (HDD) and 64 GB RAM storage capacity; it's also an affordable option with near-premium features and performance. With 8 USB 3.0 ports, serial, 2 DisplayPorts, and one Gigabit Ethernet port, you enjoy advanced connectivity to a couple of office devices.
The ThinkServer TS150 model comes with a powerful Intel Xeon CPU that's suitable for small and medium-sized businesses. While the design is a bit bulky and may take much of your small office space, this server guarantees a quitter and seamless operation.
HP Proliant ML110 G10 is one of those servers that strikes a delicate balance between value and performance. It has established a market preference among small business owners, thanks to the exceptional features such as flexible connectivity options, fast processing speeds, and generous storage capacity.
Not only does this model advertise itself as a small-business starter kit, but it also handles demanding tasks that an average business may throw at it. The advantage is always with the price, convenience, and performance.
Wrapping it Up
Just because you're running a small business doesn't mean you should settle for a low-performance server. Choosing the right model narrows down to understanding your business needs and the server resources required for optimal performance.
If you're on a budget, for example, the HP ProLiant ML110 G10 will be your best fit. Still, if you're in for faster processing speeds, higher storage capacity, and better database management, the DL360 will be a better alternative.
As a rule of thumb, the decision to buy a specific type of server should be reached after carefully analyzing your business needs then checking if the market has a matching option, and not the other way round.
Conclusion
Hummingbird Networks is a premier provider of networking solutions for small, medium, and large organizations. If your objective is to make your home network more efficient, we have all the hardware and software resources to help you achieve it. Our skilled and highly experienced associates are always ready to guide you through all the installation, optimization, and maintenance steps. Please contact us today for more information.