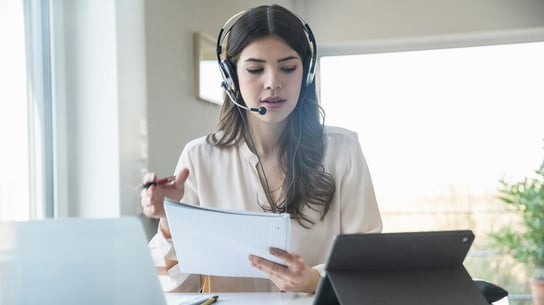 If you are working from home, you should ensure that you have proper networking equipment to be productive. For those whose nature of work involves making a lot of calls, the right headset makes it easy to communicate with colleagues and clients. Combining it with technological systems, such as Webex Teams, Microsoft Teams, or Skype, allows you to maintain the connection as you work from home.
Many people rely on headsets for daily communication; thus, it is not a surprise that there are hundreds of headsets to choose from. However, making the right choice of headset is daunting. Below are some of the best headsets available on the market.
With an ultra noise-canceling microphone equipped with a single channel noise reduction system, the MB Pro headsets reduce background noise, such as car road noise and air conditioning fans. Combined with Sennheiser HD sound and Room Experience™ technology*, the MB Pro headsets provide the listener with a clearer and more natural sound on calls. High-quality robust design includes a large leatherette ear pad for powerful sound and extra wearing comfort. Up to 15 hours of talk time.
The headset can also connect to another Bluetooth device and function at once. They are also stylish and comfortable, which makes it perfect for those working for long hours.
Key Features
30 meters of range connectivity

Great price point

Dual connectivity
Plantronics C225 Stereo Corded Headset
The Plantronics C225 Stereo Corded Headset is an affordable stereo headset that suits individuals working from home or other space. They offer Plantronics' trademark sound quality with an integrated noise-canceling technology, which enables users to keep in touch with their customers and colleagues whenever needed. The headset connects using a 3.5mm connectivity port that fits laptops, tablets, and smartphones.
Key Features
Noise-canceling technology

Plug and play connectivity

Affordable headset unit

Easy connectivity
Sony WH – 1000XM3 Wireless Headset
If you prefer using wireless headsets, the Sony WH – 1000XM3 Wireless Headsets are the best option for working from home. Apart from the integral wireless feature, they provide excellent noise-canceling abilities that eliminate any external noise. They eliminate the majority of noise around you, thus great for business calls, podcasts, music, and any other use that requires keen listening.
The headsets are sleek and overly stylish, as well. Despite not having the highest quality microphone, they work well for occasional phone calls.
Key Features
Wireless feature

Noise-canceling technology

Sleek and stylish
Jabra Evolve 75MS Stereo Wireless Headset
Another one from Jabra, the Jabra Evolve 75MS Stereo Wireless Headset offers the best sound quality for a wide array of use. The headset comes with dual Bluetooth connectivity, meaning that you can use it with two different devices simultaneously. You can listen to music from your smartphone and switch to your PC when a business call comes in seamlessly.
Key Features
Dual connectivity

30m wireless range

Active noise cancellation

High-quality sound for music and calls
The Sennheiser SC 230-Corded Headset is a simple unit to set up as it requires a simple connection with a cable to your phone to start using it. The headset is best for those who spend most of their hours in a day making calls or working from their phones. The unit frees up your hands, allowing you to multitask and enjoy the comfort more than traditional headsets.
Key Features
Lightweight

Easy to use

Noise-canceling microphone
Jabra Engage 75 Stereo Wireless Headset
Yet another incredible headset from Jabra is the Jabra Engage 75 Stereo Wireless Headset. It is an overly lightweight unit with high-end connectivity. Whereas it is not the cheapest on this list, the unit suits individuals working from home and willing to spend extra for excellent and quality headset. It offers a maximum of 150m connectivity range, thus suits those working from home but need the convenience of mobility. It can also simultaneously connects five devices.
Key Features
Great wireless performance

Wide connectivity range

Connects 5 devices

Advanced noise-canceling technology
What to Consider When Selecting a Headset
With the many options available, finding the best headset for working from home becomes daunting. Before making a choice, consider your intended use, presence of noise-canceling abilities, presence of an attached microphone, and if it is wireless or corded.
Price is another essential consideration. However, most headsets are not much expensive, unless you want extra features in your headset. You should as well think of the comfort that the headset provides. Some headsets can provide great features but are very heavy, tiring your head and neck.
The Bottom Line
Headsets are integral equipment that is essential for those working from home. With the increasing urgency to work from home due to the Coronavirus pandemic, it is important to find the best headset to handle your business demands. Ensure that your headset of choice has features that suit your intended use.