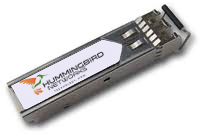 SFP/SFP+ transceivers are one of the most useful add-ons available for your NETGEAR network. These little devices allow your networking equipment to accept a wide variety of connections, without having to invest in new hardware.
Unfortunately, they're also one of the most overpriced add-ons available. In reality, these simple devices are extremely cheap to produce, but the name-brand transceivers are often marked up by hundreds of percent, or more! After all, it's a captive market, right?
Wrong. Hummingbird's own AGM731F compatible transceivers cost a fraction of name-brand units, while bringing better benefits along with. If you need 1000Base-SX fiber connectors for your NETGEAR equipment, Hummingbird can deliver far more, for far less.
Three Reasons To Buy Hummingbird AGM731F-HN Compatible SFPs
1 - Guaranteed Compatibility
If you have any doubts about whether a third-party transceiver can be as good as the original, let them be soothed. Hummingbird's SFP transceivers are made in the same factory conditions, with the same or better quality components, that the name brand NETGEAR units use. Aside from the name on the casing, there really is no difference with ours.
Every Hummingbird transceiver is fully compliant with the MSA (Multi-Source Agreement) standards which govern the creation of most network cabling and connectors. They also come with a built-in EPROM chip with all the compatible vendor information necessary, so that your NETGEAR equipment will work.
And when we say guaranteed compatibility, we mean it. Hummingbird's AGM731F transceivers are backed with a lifetime warranty, with product replacement if needed, and free technical support. You won't get that from name-brand transceivers.
2 - Rapid Shipment
We keep a full range of our transceivers in-stock, ready to ship at a moment's notice. There's no need for lengthy delays waiting for shipments to be sourced and shipped. In case of emergency, same-day shipments are often possible. All you have to do is give us a call!
3 - Huge Savings
As of writing, the list price for NETGEAR's official AGM731F 1000Base-SX transceiver is over four hundred dollars. You could buy entire new pieces of network hardware for that much! Hummingbird's transceiver, on the other hand, currently sells for less than a tenth of the name-brand list price.
This is a rare case that "sounds too good to be true" really is true. The plain fact is that the name-brand markup on SFP transceivers is gigantic, because most companies ordering hardware from a vendor throw in some transceivers without even thinking about the extra cost. Or, many buyers assume they simply must buy from the OEM, even though that's not the case.
Many Upshots, And No Downsides
It's rare for a value proposition in networking to be so clear-cut, but here you have it: Hummingbird's own compatible NETGEAR SFP transceivers cost a fraction of what official models retail for, are guaranteed to be 100% fully compatible with NETGEAR hardware, and you get a better warrant than NETGEAR offers.
But if you're still on the fence, or you think there might be trouble convincing higher-ups to accept third-party hardware, we have a special deal. We can provide evaluation units which you're free to test out for 14 days, to verify they're fully compatible with your hardware. If you really want to send them back after two weeks you can... but we're pretty sure you won't.
Just contact us to ask for your demo units, and you'll see why buying Hummingbird-brand SFP transceivers makes so much more sense.