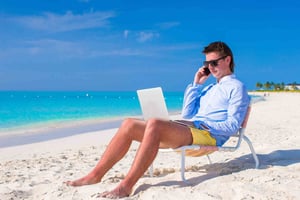 Does it seem like you're receiving fewer "out of office" automatic email replies these days? If so, it's no coincidence - a variety of new communication technologies are available which make out of office email messages largely unnecessary. With the right software at their back, workers are rarely "out of the office" because the office can come to them!
So today, we wanted to take a quick look at some of the most common ways companies are avoiding the dreaded "out of office" messages, and ensuring communications make it to their intended recipient on the first try.
Distributed Unified Communications Make The World Your Office
1 - Unified Communications
At the heart of virtually any modern enterprise communications setup is a UC system. Unified Communications remove the wall which used to exist between data, voice, and video communications and allow them to freely mix and mingle on the same network.
Beyond making it far easier for your admin to keep track of communications and have full logs of everything, this also allows for a wide range of medium transitioning. Voicemail messages can be transcribed and turned into emails. Voice calls can be responded to via chat interfaces. UC removes a lot of the barriers between different communication types.


2 - Go-Anywhere VoIP
More and more companies are standardizing on VoIP services that offer both desktop and smart-device apps, such as Skype or Cisco Spark. The system can keep track of which devices are logged on for a particular employee, and route them accordingly. If you're not in the office and get a phone call, the system simply pings your smartphone or tablet instead.
The caller, most of the time, will have no idea where you are or what device you're using. Nor would it really matter. They call, you answer. Simple!


3 - On-Demand Data
One big issue that used to come up with customer-facing employees, such as sales and support staff, was a lack of available resources when on the road. Not anymore! Cloud storage systems allow every bit of sales and technical documentation to be available any time, and anywhere.
So there's even less reason for customer support workers to ever be "out of the office" while they're on the clock. This sort of instant access to data makes it easier to seal deals, as well as helping to reduce the length of the sales cycle - and that can be a big selling point for companies looking for solutions now, rather than six months from now.


4 - Cloud-Based Collaboration
Beyond one-on-one communications, the go-anywhere model can also be extended to include full groups. As mobile device data rates and WiFi access points continue to improve, its now possible -even easy- to have conference calls or videoconferencing where every participant is in a totally different location.
This can be paired with shared storage systems for document collaboration in parallel with the calls, allowing the world to be your boardroom as well.


5 - Meraki Communications
If you're looking for the easiest possible starting point for all of these technologies, we recommend investigating Meraki. For starters, they already have the easiest-to-use and easiest-to-deploy virtualized network on the market. Meraki systems allow a wide range of firewalls, switches, WiFi access points, and MDM all coexist seamlessly with effectively unlimited scaling.
On top of that, they've now begun their new Meraki Communications initiative, with VoIP phones designed from the ground up to work seamlessly with Meraki systems. The result is a UC solution that anyone can deploy and manage with a true minimum of effort.


To learn more about your UC options, just contact Hummingbird for a free consultation!