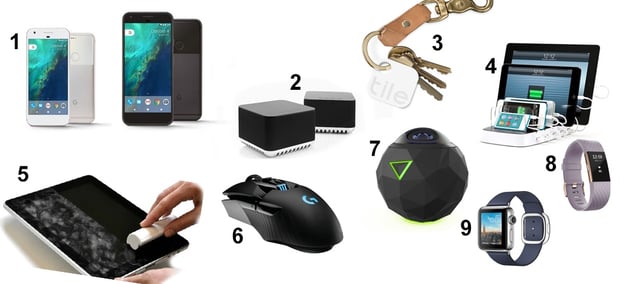 The holiday season is finally here – a time to spread the love by having fun together and exchanging gifts. Last week we talked about what to purchase for your company as a whole, today let's look at individual presents for members of your team (or yourself). The problem is – techies can be a difficult lot to shop for. They probably have it all or have seen it all. Even the latest innovations rarely surprise them.
So, what can you get your IT friends and family?
Here are our picks for the tech gift guide 2016:
1. Google Pixel or Google Pixel XL – from $650
These two smartphones are currently the most advanced Android devices. They feature an all-new Google Assistant function powered by artificial intelligence, top notch display, one of the best cameras on the market, and an excellent battery life.


2. Mass Fidelity Core Wireless Speaker System – from $590
This small speaker (measuring 6 x 6 x 4 inches) delivers excellent sound quality which comes from the fact that Fidelity has developed it using a clever acoustic rendering technology creating the illusion of two speakers. Its Wi-Fi connectivity and Bluetooth capabilities are also top notch.

3.Tile Slim Tracker – from $30
If the person you're gifting has a habit of forgetting the whereabouts of their iPhone, this nifty gadget would prove invaluable to them. The Slim Tracker can locate any iPhone as long as the phone is within its Bluetooth range.


4. Power Dock 5 – from $65
Power Dock 5 is a space-saving charging station that provides safe charging for up to five different devices. It is about the size of an iPad meaning it doesn't take up much space. But it gives you a place to store and charge 5 iOS devices at one time.


5. iRoller; the Reusable Touchscreen Cleaner – from $20
You can also use the holiday season to give your tech friend/family a break from microfiber cloths by gifting them an iRoller. The iRoller is a technological, liquid-free solution for cleaning all your touch screens and can be reused over and over.


6. Logitech G900 Chaos Spectrum Gaming Mouse – from $140
For gamers, you can't do much better than a high-tech gaming mouse. The Logitech G900 Chaos Spectrum is considered the best of its kind, featuring pro-grade performance in wireless and wired mode, customizable buttons, and a great battery life.


7.360 Fly 4K Action Camera – from $420
This outdoorsy camera captures crisp 360-degree footage with a resolution of 2,880 x 2,880! It also comes with 64GB of built-in memory, an accelerometer, smartphone app controls, a built-in gyroscope, and so much more


8. Fitbit Charge 2 Charge 2 – from $150
Fitness is now a priority for most people, especially with the new year approaching. The Fitbit Charge 2 is the perfect gift for those who are active or are looking to a new healthy lifestyle. The device features a handy OLED touchscreen, continuous heart-rate tracker, GPS, and swappable wristbands. It can also be used for personalized breathing exercises.


9.Apple Watch Series 2– from $369
Finally, we saved the best for last! Smart watches have been the in-thing recently. If your techie friend or family still doesn't have one or if theirs is a little old fashioned, surprise them with the Apple Watch Series 2. This fully waterproof watch, equipped with GPS, is currently one of the best out there.


Any of these are on our wish list *hint-hint*